Our Products
Security Alarm
Access control keypads for single, or multi-partition or area systems that can be programmed to protect other areas. Contact us to learn more about these products.
DSC PC1832
8 on-board zones • Expandable to 32 hardwired zones • Expandable to 32 wireless zones • 2 PGM outputs: expandable to 14 (PC5204, PC5208) • Connect up to 8 supervised keypads with keypad zones • 4 partitions • 500-event buffer • 72 user codes • Approval Listings: European CE Directives (EMC, R&TTE, LVD), INCERT (Belgium), NCP (Holland) • IMQ (Italy) Livello 2, SBSC (Sweden) Larmklass 2, EN50131-1 Grade 2, Class II Environmental •· ICASA (South Africa), FCC/IC, UL/ULC
2GIG-CNTRL2-345
Full voice response • Multiple arming options • Wireless data transfer • Automatically updates its software • Remote control from web or smartphone • Built-in Z wave radio • Rechargeable backup battery
AES-7744F/7788F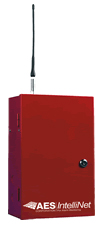 UL Fire Transceiver • UL 864 • Ed 9 Listed • NFPA Compliant • AA Burg Transceiver
Uplink 2530

As a substitute for landline alarm communicators or for use as a back-up to existing systems, Uplink remains on the job with a secure, reliable connection that transmits alarm events instantly, in the event of phone service disruption or if your customer has wireless-only service.
Uplink has been providing wireless alarm communications longer than anyone else, having deployed our first solution in 1996.





Professional
Services
Security Alarms
Custom Designed Security Systems
Monitoring and Service on Most Existing Systems
24 Hour Service
UL Listed Central Station
Competitive Monitoring Rates
Experienced and Professional Staff
No Telephone Lines Required
Fire Alarms
Fire Alarm System Installation
Fire Alarm Service and Maintenance
NFPA Fire Alarm Certification
Sprinkler System Installation
Fire Extinguisher Installation
Hood/Range System Installation
Exit Light Service and Inspection
No Telephone Lines Required